Here are some reviews from our guests…
Some stays in 2019:
I loved the Funny Tree house ! Well, the bad weather prevented me from climbing at the top (but that's just a detail) The breakfast too good! Great idea to put board games and heating! In short, it was magical! Thank you very much! Lucie 8, no, 9 years old!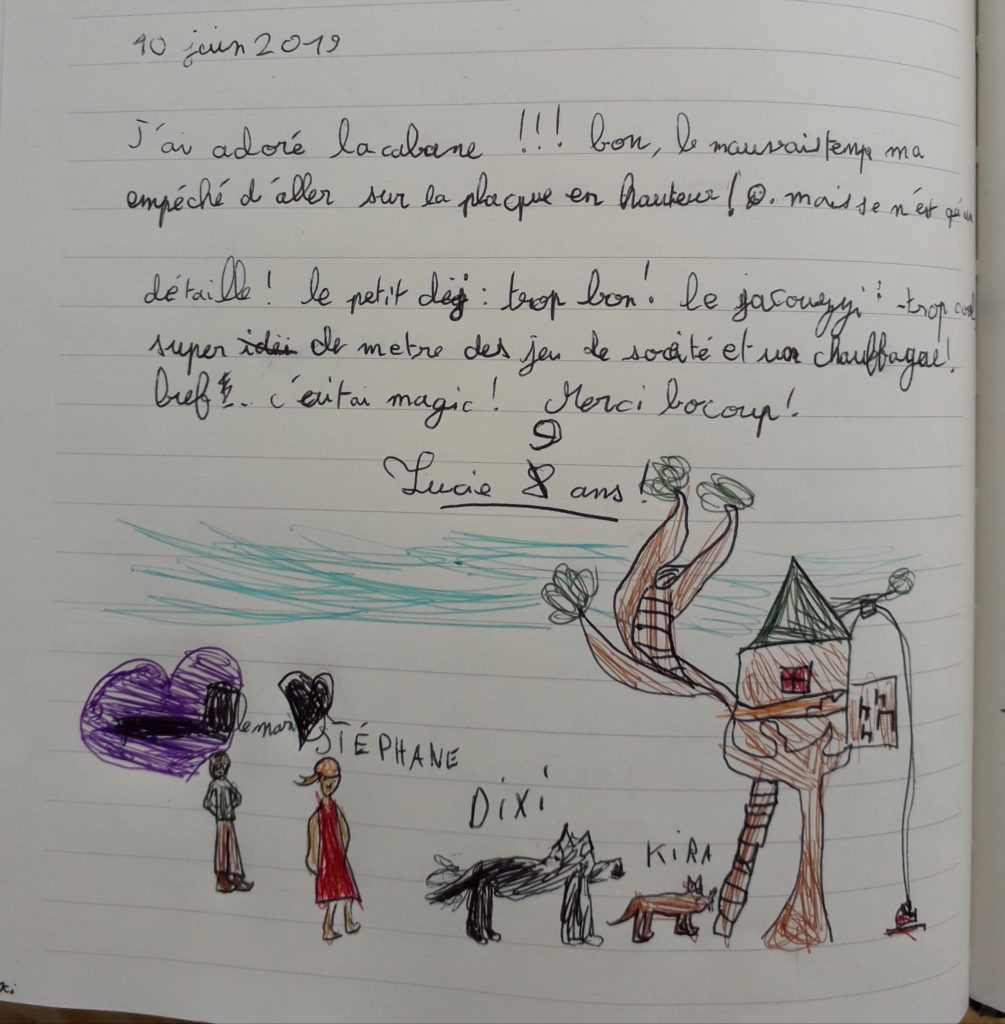 On May 25th, Virginie and her dauthers wrote:
Super nice, the Funny Treehouse on top, adorable Stéphane, we just enjoyed!!!
On May 24th, Elsa and Maxime wrote:
A small place of paradise nestled in the trees with a splendid view, to recharge and find yourself as a lover. A real night of tranquility. Thank you for your superb welcome and kindness.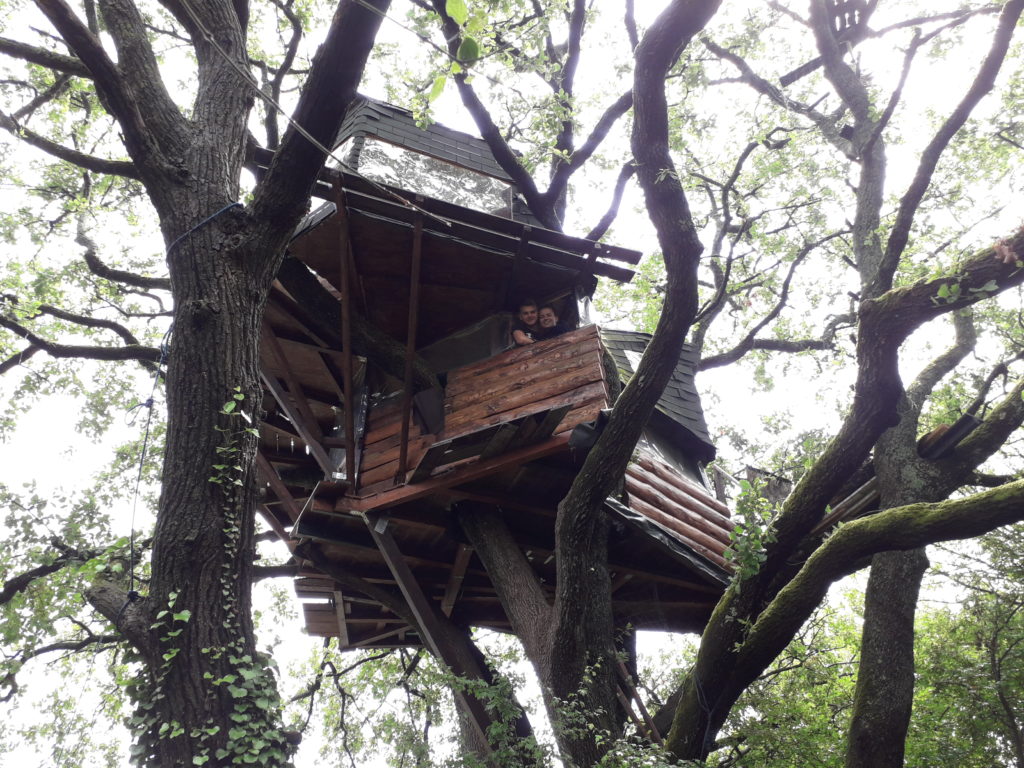 On May 19th, Virginie and Julien wrote:
An unforgettable stay with hosts to care, a really nice surprise on the spot … to do and redo, we really had a great time in the Funny Treehouse, we will come back in fine weather for sure!
Some stays in 2018:
The october 31:
Everything was perfect, from the welcome to departure, a mix of comfort and authenticity, to the nest at the top, girls like me were delighted with their experience, it's great! This place has a soul, it feels like home, to remake +++
Philippe, Manon and Jade
The september, 15 :
A moment of unic magic … That was what we wanted when we came to the Funny Treehouse. We had more: an escape, a little paradise awaited us … We thank you from the bottom of the heart for your hospitality, warmth and kindly presence. Thanks again,
Morgane and Franco
The august, 25 :
All these little moments that you propose with a smile have made these 24 hours a very warm and relaxing moment. We will certainly come back to enjoy this unusual place you have taken care of … we went back to childhood a little time. Again thank you Stéphane, and very good continuation.
Thibaud and Zineb
The august, 21 :
Sleeping in the trees, I dreamed forever! What about this magical place where birds are kings and the owners are very kind … This fabulous stay allowed us to offer a moment out of time, with only good surprises!
Hélène and Jacques
The august, 14:
Nous étions comme dans un petit nid douillet
Dans ce bel endroit que vous préservez,
C'est un véritable vaisseau boisé
Que seuls les oiseaux peuvent toucher
La cime émeraude des cieux
Émerveille nos cœurs amoureux.
We were like in a cozy little nest
In this beautiful place that you preserve,
It is a real wooded vessel
Only birds can touch
The emerald top of heaven
Marvel our loving hearts.
Camille and  Adrien
The july, 23 :
A unique experience that is aptly named « unusual »! We thank you for your welcome and your kindness. We had an excellent night, waking up gently by the light of day. The breakfast was perfect: we enjoyed the « homemade ». We were delighted by this authentic place and very nature. Very refreshing!
Laura and Florian
The july, 15:
Thank you Stéphane and Christian for this parenthesis out of the bustle of cities. Here, connection with nature and it's great! It's my childhood that comes back a little. Thank you also for your warm welcome and many delicate touches. My little girl will keep the memory of this stay a long time, do not change anything,
Anne-marie and Cléa
The july, 13 :
Perched on top of a tree, here I am raising a child's dream! The famous Funny Treehouse! The one I dreamed of watching Tom Sawyer. Yes thank you for this haven of peace, this ingenious treehouse, comfortable and unusual, no doubt! thank you for all these attentions and this gargantuan breakfast … A treehouse where life is good and where we will not fail to invite other friends to try the new experience. A successful rest getaway for my daughter and me, thanks
Julia and Lou